United Auto Collision Center
Auto Body Shop in Burlingame
While we try to return your car to you as soon as possible we will not sacrifice quality
for speed. We are a preferred shop for over a dozen insurance companies.
United Auto Collision Center
Thousands of satisfied Auto, SUV and light truck customers
throughout the Greater San Francisco Bay Area.
United Auto Collision Center
Our body shop is equipped with state of the art equipment and our staff is trained to work on
all makes and models including BMW, Mercedes-Benz, Audi, Porsche, Lexus, Volvo and Jaguar.
United Auto Collision Center
Color Matching & Automotive Paint Service
We have the most up-to-date color-matching equipment available on the market today. Our paint
system utilizes a computer-generated matching process to deliver the exact color match every time.
We take great pride in saying yes to repairs that most other companies say no to. If your car has been damaged as a result a of an accident, we can help.
We've been painting cars, trucks, vans, and just about anything with wheels since 1993. We've seen a lot of auto painting shops come and go in that time, and we've outlasted them all.
At UACC, we are unconditionally committed to performing car frame repair that protects our customers' investment and ensures their and their family's safety.
"Welcome to United Auto Collision Center in Burlingame, California, your exclusive auto body repair. We are a licensed, full service collision and body repair facility for your personal daily transportation and offer quality repairs on insurance claims, complete with frame-straightening, suspension damage repair and computerized color matching to ensure a flawless finish.,
We also provide show-quality repair of investment quality and special interest collector cars. Working to a very high standard we can refinish and repair all types pre- and postwar European and domestic classic cars, stripping to bare metal. Where necessary, we replace panels and fabricate repairs and make custom modifications. Throughout, we provide extensive research and photo documentation of the processes used as we return your investment to its original glory.
Your car is special. At UACC we take special care of you AND your car with the highest quality materials and workmanship available. Our technicians can repair and/or replace damaged panels and straighten the complex unibodies of today's and yesterday's foreign and domestic cars. Our painters can color-match and blend flawlessly. We get you back on the road quickly, with no hassles
United Auto Collision Center (UACC)
Address:
1369 Rollins Rd.,

Burlingame, CA, 94010
Telephone:
(650) 548-0954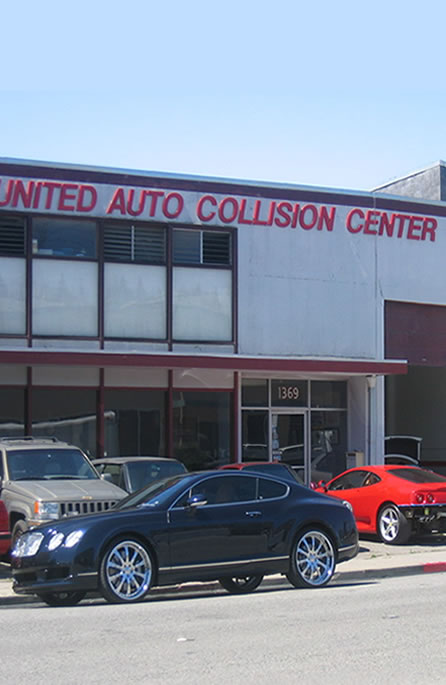 UNITED AUTO COLLISION CENTER
"Choosing the right auto repair facility is an important decision that often comes at a stressful time. Unfortunately not all repair facilities offer the same level of service. It is important to the appearance and safety of your vehicle to choose a shop which has both the equipment and on-going training to properly repair your vehicle. At UACC, you will receive the finest quality repairs available..
Looking for an Auto Body Shop in San Mateo?
We hold manufacturer certifications from brands such as Porsche, Audi, Mercedes-Benz, Land Rover, Ford, Honda and many more!
we offer quality approved full-service collision repairs and paint.
We offer clean modern facilities with the latest collision repair equipment, long- term qualified employees, secure parking, and comfortable customer waiting area. We also provide collision repairs for exotic and luxury vehicles. Our facilities are designed to perform environmentally safe paint and rust removal, paint jobs and paint applications for a variety of different manufactured products.
Danny Glover
He is one of our many returning
satisfied costumers.